A 75 Year Journey on the Road to Independence
Posted On:October 20, 2023
As of this past Wednesday, we are just 75 days away from our 75th anniversary year here at the ODC. What began in the basement of a house on February 1, 1949, with just a few children with intellectual and developmental disabilities, has transformed into a much larger organization that has helped thousands of adults on their own personal road to freedom.
As we approach our 75th anniversary, we want to let you know that we are planning several major events to celebrate in 2024, and we would love to have you involved. Here are just a few of the events we are planning, in addition to our regular ODC Nights Out and our 6th Annual ODC Food Truck Fest (June 1). Please put these dates on your calendar now so you won't forget.
ODC Founders Day – February 1, 2024. We will be having a short ceremony and reception here at our building on the actual 75th Anniversary of the ODC. This will include some local and state government officials with proclamations honoring us, as well as some tours of our building and a meet and greet with our Program Participants, as well as some light refreshments. More information to come!
ODC Anniversary Banquet – April 5, 2024. Save the Date! We are hoping to pack out the room at the Willows at Historic Strasburg as we celebrate the ODC, its founders, and all of our Program Participants. This is about as fancy as we get here, and we will celebrate with a short program, great food, great drinks, music, dancing, and much more. Our hope is to have local businesses sponsor tables to not only pay for the event but to also help us raise much needed funds. If your business is interested in being a part of this, please contact Ken Mueller for details. We would love to have all of you there. More information will be coming as we approach the date, but please plan on being there.
Plus, our theme for the year is "75 Years on the Road to Independence," because that's why we are here; to help our Program Participants develop the skills they need to gain independence in their lives. Our founders, Olivia Stoner and Marian Headrick, didn't like the hand that was dealt to our Participants by society and decided to do something about it. That's how we got started, and that's why we continue. It's been a long but rewarding journey, and we're not done yet!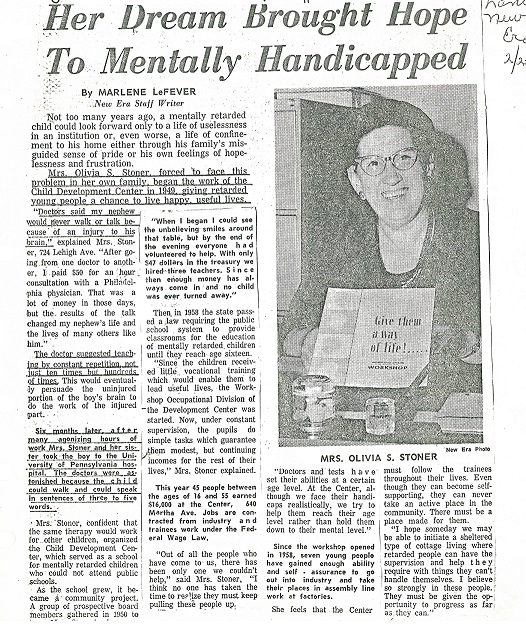 So as we approach our anniversary year, we have a goal in mind, and would love for you to help us. We've already told you about our Annual Appeal with a goal of raising $40,000 to purchase a new minivan. But in addition to that, we want to bring in an additional $35,000 before the end of this calendar year, so we can start our 75th Anniversary off right with donations totaling $75,000! This will include the money we raise in the Extraordinary Give on November 17, our ODC Nights Out (see below), and any other events that bring in money for us.
The good news is that we are already well on our way. To date, we have already received 18% ($7,200) toward our annual appeal, and 16% ($12,000) of our overall year end goal of $75,000.
So, while there is a lot coming next year, we'd love if you'd partner with us this year and help us reach those goals! Here's how you can help:
Donate now online. This will go to both of our financial goals and is the fastest way to help. Any size donation helps and makes a difference in the lives of our Program Participants. Of course you can always send us a check made out to the ODC and mailed to us at 640 Martha Ave., Lancaster, PA 17601.
Make an online donation at the Extraordinary Give on November 17th. This is Lancaster County's one day giving event, and our goal for that day is $15,000. The money you donate will be supplemented by stretch funds from the Lancaster County Community Foundation and its partners, so your money will go further.
Attend our upcoming ODC Night Out Events. These are dining events at area restaurants where we all go out to eat and the restaurant donates back a portion of the proceeds. Scheduled for the rest of the year are:
So why not join us on this wonderful journey as we embark on ANOTHER 75 years on this road to independence!